French fishermen rescued from sinking boat off Cornwall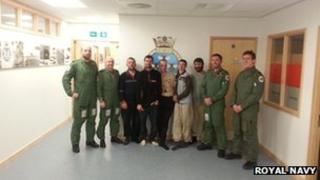 Five fishermen were rescued off the coast of Cornwall after their boat began to sink in stormy seas.
The crew of the Panamera sent out a mayday call at about 01:00 GMT when the vessel started to take on water about 20 miles off the Lizard.
A search and rescue helicopter from RNAS Culdrose winched the fishermen to safety. No-one was injured.
The rescue, co-ordinated by Falmouth Coastguard, also involved the Lizard lifeboat and two merchant ships.
The Maritime and Coastguard Agency (MCA) said the operation was carried out in rough seas, with winds of 40mph (35 knots) and waves up to 20ft (6m).
'Severe situation'
The lifeboat and merchant vessels were used to provide some shelter for the helicopter winching operation.
The crew - French and Portuguese nationals - were preparing to abandon ship when the helicopter arrived.
"The Panamera had a 6-inch (15cm) hole in the hull and the crew had been trying to stem the flow of water and plug the hole," MCA spokesman Ken Bazeley told BBC News.
"The intention was to get the crew into a life raft, but the situation was getting quite severe, so the helicopter recovered all five crew."
The crew from Rescue 771 Squadron flew the fishermen to RNAS Culdrose.