St Austell traders fear for town centre future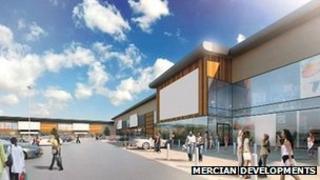 Traders in St Austell will close their business if an out of town shopping centre is granted permission, the Chamber of Commerce has warned.
About 200 people attended a meeting about the Coyte Farm development on Wednesday night.
Cornwall Council's strategic planning committee heard from more than 60 speakers, both for and against the scheme.
Developers have promised to support the town centre with subsidised parking.
Town centre 'vulnerable'
Steve Hirst, a local businessman said: "I represent the Chamber of Commerce. We're already being put on notice by members if Coyte Farm gets planning permission, they will close because they see no future in the town.
"We've been in limbo for 18 months, it's making the town vulnerable."
Rob Craddock, who lives in St Austell, said: "They say it will create jobs, but when it takes money from the town centre, it will kill jobs there."
Marks and Spencer, Sainsburys and Next are included in the development, along with a petrol station, golf academy and improvements to the nearby St Mewan School.
Simon Hoare, from Mercian Developments and Metric Properties - the firms behind the project, said: "All of our surveys tell us that last year alone £100m of St Austell people's money was spent on clothing and comparison shopping outside of St Austell - Plymouth and Truro are going to get bigger.
"The opportunity exists to bring in those brands people want to see on their doorstep. St Austell's retail offer today doesn't reflect its size of community."
As well as subsidised town centre car parking Mr Hoare said they would increase the number of buses from the development to the town centre.
Stephen Gilbert, the Liberal Democrat MP for St Austell and Newquay said: "We need all the facts. How many jobs will be lost? How many businesses will close? It's not just St Austell, it affects Bodmin, Newquay and Truro as well."