Safety concerns at Newquay's Holywell Bay Nursing Home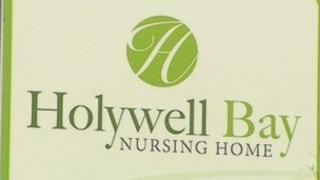 A nursing home which has repeatedly failed to adequately protect patients with dementia and mental health problems could face closure.
Admissions to Holywell Bay Nursing Home in Newquay, Cornwall, were suspended in May after an inspection by the Care Quality Commission (CQC).
Cornwall Council and NHS Kernow are now carrying out weekly visits to ensure residents' safety.
Home owner Newport Care Limited said it was working hard to make improvements.
'Major impact'
The health watchdog said it had "long-standing concerns" about the home, which caters for people with mental health problems and dementia.
Its website said: "CQC has warned Newport Care Limited that they must make immediate improvements within a set timescale at Holywell Bay Care Home."
Following an unannounced visit in May, inspectors said not enough was being done to prevent the possibility of abuse or to ensure residents were cared for safely.
Other areas of concern included a lack of "qualified, skilled and experienced staff" which had a "major impact" on residents.
This prompted Cornwall Council and NHS Kernow, which both fund placements at the home, to suspended admissions.
Newport Care was given two months to make the necessary improvements, however a further inspection in July revealed insufficient action had been taken to address the issues identified.
Paul Tatla, a spokesman for the provider, said in a statement: "We recognise that we need to make improvements to our service and are working hard to do so."
He said Newport Care was working closely with Cornwall Council, NHS Kernow, care consultants and the relatives of residents.
"We have acted on issues raised by CQC since the summer, investing significantly in the home," he added.
"We are disappointed that CQC is not acknowledging the real improvements that have been achieved."
Enforcement powers
A relative of one of the home's residents, who asked not to be identified, said despite the inspections, conditions at the home had "deteriorated considerably".
Cornwall Council, which is responsible for safeguarding adults has urged anyone with concerns about the home to contact its adult care, health and wellbeing team.
It has written to residents at the home to update them on the current situation.
The CQC has a range of enforcement powers it can use if standards are not met, although any decision it makes can be challenged by the provider.
In a statement, it said it had been in discussions with Newport Care Limited, Cornwall Council and NHS Kernow and the findings of its latest inspection at Holywell Bay on 9 October would be published "within the next few weeks".
"In the meantime our inspectors will continue to work with Cornwall Council and NHS Kernow to ensure that people are being looked after properly," the statement concluded.
Cornwall Council funds 16 placements at Holywell Bay, while NHS Kernow funds 32.
A joint statement said: "Multi-agency weekly monitoring visits are taking place and we are monitoring the home's progress meeting an improvement plan."