Homes fight costs Lanner Parish Council £57,000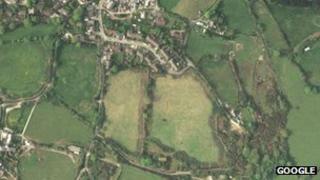 A Cornwall parish council is facing a £57,000 legal bill after two failed attempts to fight a plan for 25 affordable homes.
Lanner Parish Council twice applied for a judicial review in opposition to the county council-backed scheme.
Following the latest attempt, the Court of Appeal ordered the parish to pay the county's £30,000 costs. Lanner has run up its own costs of £27,000.
The parish council has pledged to fight the "wildly excessive" bill.
Cornwall Council gave planning permission for the £3m homes scheme south of Lanner near Redruth in 2011.
The county council claimed there was enough need in the village which has a population of about 2,500.
'Dire need'
But the parish council objected, saying that county councillors had been misled and that only 12 homes were needed.
In January the High Court in London dismissed its application for a judicial review and last week the Court of Appeal further dismissed the application.
Cornwall councillor and Lanner resident Mark Kaczmarek said: "It's been a complete waste of time and money.
"There is a dire need for affordable housing in Cornwall."
Parish council chairman Ashley Wood said the £27,000 costs, incurred before the first application, had been covered by reserves.
'Wildly excessive'
The £30,000 costs ordered by the Court of Appeal would have to be met by "donations and subscriptions", he said.
"It won't fall on the ratepayers at all," he said.
The council had instructed its solicitors to negotiate a reduced costs figure with Cornwall Council.
"They seem wildly excessive," he said. "We acted because the community wanted us to.
"We have had no-one in the parish jumping up and down saying we shouldn't do this."
Cornwall Council said it was pleased with the Court of Appeal's decision but regretted "that it was necessary for the matter to proceed to a final hearing".
The homes will be available for people who have lived or worked in the parish for the past five years.