Healthy Livestock Project saves farmers millions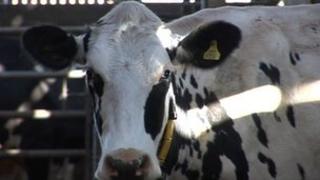 A three-year initiative to cut disease in cattle in the South West has saved farmers more than £16m a year, project leaders have said.
The Healthy Livestock Project offered more than 8,000 farmers across the region training and one-to-one vet advice.
The project, funded by the European Union, was managed by Duchy College in Cornwall.
It is now hoped the scheme will be rolled out nationally.
The project saw the college working with farmers to draw up health management plans and tackle infectious diseases.
Paul Ward, the project manager, said: "We are delighted with the success of the Healthy Livestock project, which has reached more than 8,500 farmers across the South West."
The college said diseases such as mastitis and lameness cost the industry more than £100m a year.
Tera, Allward, a farmer from Woollard in Somerset, who took part in the project, said: "We have halved our incidence of lameness in two years and cut treatments by 25%.
"We also know that we're now low risk for respiratory disease, BVD and Johne's, and we'll definitely keep following through with the health plan with our vet."