Ex-hospital chairman Martin Watts 'cannot have tribunal'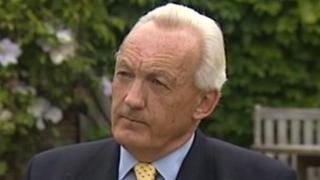 The former chairman of the Royal Cornwall Hospitals Trust (RCHT) cannot take his leaving to an employment tribunal because he has been told he was not an employee, he has said.
Martin Watts said he was forced to resign in June after investigations into complaints about his behaviour.
Mr Watts said NHS lawyers informed him that being a "statutory office holder" did not give him employee status.
The RCHT said its focus remained "providing high quality care".
In August, two reports found Mr Watts had breached the trust's dignity at work policy.
He resigned, but said this was not an admission of guilt.
'Wholly unsatisfactory'
Mr Watts planned to have his case heard at a tribunal next February, claiming he had been unfairly dismissed and that he wanted to be reinstated.
He said lawyers for the RCHT and the NHS Trust Development Authority had now informed him his appointment under the National Health Service Act 2006 "did not create any contract of service or contract for services".
He said this was a "wholly unsatisfactory situation" but he was "confident that the truth will eventually fully emerge".
One report related to Mr Watts challenging a nurse over what he described as "poor care" given to his mother-in-law.
Another found he had unduly criticised a member of staff and invaded her space.
Mr Watts said the reports were flawed and omitted crucial evidence. He added that he was forced to resign and was not given any course of remedial action to enable him to stay on as chairman.
The RCHT previously said two separate independent investigations found Mr Watts to be in breach of the dignity at work policy for bullying and harassment.
Lezli Boswell, the chief executive of the trust, said: "We note this is the final word from Mr Watts and that it confirms that there is no legal basis to pursue a case for unfair dismissal."