St Agnes surfers pay respect to Peter "Chops" Lascelles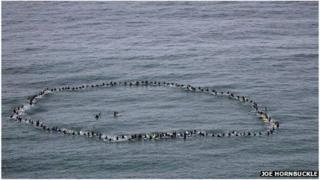 More than 100 surfers have paid their respects to an internationally-renowned surfboard shaper from Cornwall.
The 'paddle out' event, in which surfers formed a circle in the sea at St Agnes, celebrated the life of Peter "Chops" Lascelles.
Mr Lascelles died on 10 October after suffering a heart attack.
The Australian-born surfer ran the surfboard production business Beachbeat Surfboards, alongside the Aggie surf shop in St Agnes.
Elizabeth Tomes wrote on Facebook: "It's just staggering how much love has been shown. Well done, YOU... thank you for it all, I feel honoured just to have seen your face!"
Simon Ledson wrote: "A paddle out fit for a king."
The event followed a service of remembrance in St Agnes, attended by hundreds of friends and family.
Mr Lascelles had three sons, Brennan, Marcus and Sean.