Hannafore beach closed over yellow substance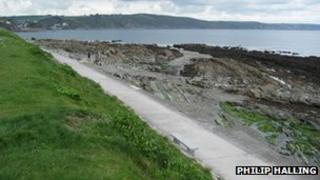 A Cornwall beach has been closed after a bright yellow substance came ashore.
Coastguards said the "putty-like" substance, which is being analysed by the Environment Agency, was found at Hannafore near Looe.
Officers said it may be related to a white substance found during the week on beaches in west Cornwall.
That proved to be non-harmful palm oil after it was analysed, despite reports from vets that a dog had died after eating the substance.
Cornwall Council workers have placed warning signs at Hannafore.
The source of the pollution has not yet been identified.
A Brixham Coastguard spokesman said: "We are not sure at the moment what it is. It is not the same colour as the substance that was washed up on the beaches further west of Cornwall.
"But we are advising people not to go near it or allow their pets to go near it until we have found out exactly what it is."
West Cornwall Liberal Democrat MP Andrew George said: "It is important that the culprit responsible for this incident is tracked down and prosecuted."