Horse rider William Reddaway arrives in Truro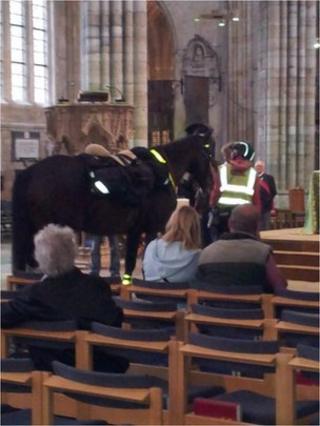 A charity horse rider arrived in Truro as he continued his mission to ride a horse 2,500 miles around England.
Retired manager William Reddaway, 65, from Gloucestershire was welcomed at Truro Cathedral after completing about 2,000 miles since May.
Mr Reddaway said his horse Strider had been a "fantastic companion".
He is hoping to raise about £100,000 and is relying on friends and contacts to put him and Strider up during their seven-month journey.
'Hard work'
The money he raises will go to the Wormwood Scrubs Pony Centre and the Family Holiday Association which helps provide short breaks for needy families.
Mr Reddaway is visiting 30 cathedrals on the charity trek and last week he was invited into Exeter Cathedral.
"It's been harder work than I anticipated," said Mr Reddaway. "But it's also been fantastic and the people have been amazing.
"Going around the countryside on a horse is a wonderful, you can see better and you have a fantastic companion."