Work begins on ancient Cornish monument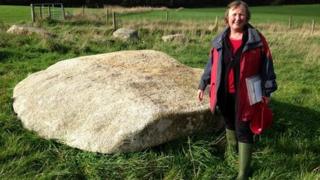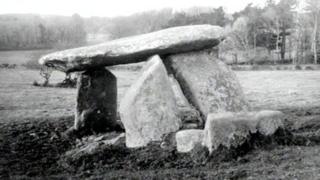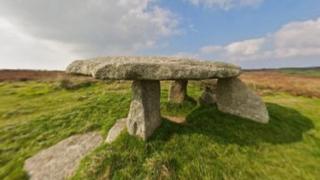 The first stone of an ancient Cornish monument is to be placed back in its original location 5,000 years after it was first built.
Carwynnen Quoit near Camborne fell into disrepair 40 years ago.
The quoit, which experts say dates back to Neolithic times, is believed to have been used as a meeting place by local farmers.
It was once called "The Devil's Frying Pan" and is set in what was known in old records as "Frying Pan Field".
The five-acre site was purchased for £20,000 in 2009 by The Sustainable Trust with help from the Heritage Lottery Fund.
A grant of £27,000 from the Sita Cornwall Trust, which supports historic buildings and structures, is enabling the restoration project to go ahead.
Pip Richards, from the trust, said: "Carwynnen Quoit fell in about 1966. It's about 5,000 years old. It was possibly one of the first gathering points. This one was on farm land."
The quoit is an example of a late Neolithic/early Bronze Age burial chamber.
Volunteers are currently sifting through earth on the site in the hope of uncovering fresh artefacts.
James Gossip, from Cornwall Council's Historic Environment Service, said: "It's a real hidden gem. I think it will mean a lot for people to see one of these monuments, with seems to have such an iconic position within Cornish history and folklore, standing back up again."
On 31 October, one of the upright stones which is currently on the site will be put back in its original place, as it was 5,000 years ago.
The trust hopes the quoit will completely restored in its original position in time for Midsummer's Day next year.