Cornwall's health service 'fragmented', hospital governor says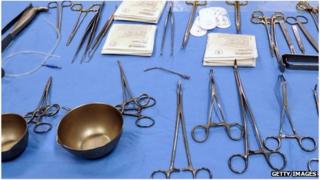 A bed-blocking row has highlighted Cornwall's "fragmented" health service, a local health governor has claimed.
The Royal Cornwall Hospital Trust (RHCT) cancelled 14 operations on 7 October because it was unable to discharge patients.
It cited a lack of community beds and social care support - services provided by Peninsula Community Health Trust and Cornwall Council.
RCHT governor Graham Webster said agencies had a lack of communication.
"The system has become very fragmented," Mr Webster, who is also vice chair of Health Initiative Cornwall, told BBC News.
'Surprising and disappointing'
He added it was concerning that some elements of health care were no longer part of the NHS, but provided by what were "essentially private contractors".
"A lot of these agencies have been working in their own interest, rather than in the interest of patients," he added.
Dr Tamsyn Anderson, from the Kernow Clinical Commission Group, admitted "something went wrong" earlier this month, but added people in health and social care "ordinarily work very effectively together".
Earlier this month Cornwall Council said it had been unaware of the problem at the hospital and resented being "blamed".
The RCHT said it needed 20 discharges a day - 100 a week - to function properly, so it deemed the bed-blocking and cancellation of surgery a major incident and escalated it to "black" - the highest level of crisis.
'Reassurance not blame'
However, the escalation process was not followed because of confusion over whether an existing operations standard policy or a new draft policy should take precedence.
Mr Webster said demonstrated the poor communication between the different partnerships.
He said: "There was quite clearly a cap in the various procedures and systems which should have been followed.
"We weren't even working to the same policy, which is very surprising and very disappointing."
Cornwall Council's health and social care scrutiny committee is to discuss the bed-blocking situation at a special meeting on Tuesday.
It said it was unaware of the situation until the cancelled operations were made public in the press.
However, it said it was "committed to working in partnership with the whole system" because "being in a hospital bed is not the best outcome for an individual who does not require this medical support".
Peninsula Community Health has said that press releases in future should be shared with partner agencies prior to publication aimed at "reassuring patients and not blaming partners".