Dead Isles of Scilly cocaine yacht skipper named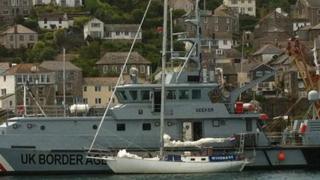 A man who died on board a yacht at the centre of a cocaine smuggling investigation has been named.
Christiaan Woestenburg, 62, from the Netherlands, fell from the mast of the Windrose on 17 June during a UK Border Force raid on the Isles of Scilly.
He was named by the Independent Police Complaints Commission (IPCC) which is investigating his death with Devon and Cornwall Police.
A total of 300lb (140kg) of cocaine was found which has a street value of £20m.
Yacht search
The 36ft (11m) yacht had been towed to the islands by the RNLI after the single-handed skipper reported he was suffering from fatigue and his boat's rigging was failing.
The yacht was moored on St Mary's when Mr Woestenburg fell from the mast. He was airlifted to hospital in Truro but died from his injuries.
The National Crime Agency said it was working with Dutch police on investigating the source and destination for the drugs found on board the Windrose.
An inquest into the death will be held after investigations by police and the IPCC are complete.
IPCC commissioner Jennifer Izekor said: "I would like to extend my sympathies to members of Mr Woestenburg's family and assure them that the investigation is progressing well."