St Austell care home suspends admissions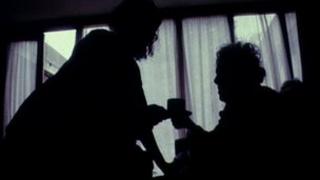 Admissions have been suspended at a nursing home in Cornwall after an investigation was launched into residents' care.
The action follows concerns raised by the relative of a resident at Clinton House Nursing Home in St Austell.
Cornwall Council, NHS Kernow and the Care Quality Commission (CQC) said the issues concerned patient safety.
The Morleigh Group, which runs the home, said it was working with the authorities to address the issues.
"There are some compliance issues, but we're working positively with the regulators to sort these out," spokesman Stuart Clarkson said.
"Clinton House cares passionately about its residents and if and when we get things wrong, we work hard to put them right."
'Residents very vulnerable'
However, Christine Stewart said her personal experience in the two years her mother Sylvia Stewart, 83, has lived at Clinton House had not been one of a "caring" home.
She said she was "forced" to go to the authorities because staff at Clinton House either refused or had been unable to address concerns she had about her mother's care, including security, staffing and nutrition.
"There are some lovely members of staff there and I tried very hard to go through the proper channels at the home," she said.
"Sadly, nothing was done so I was left with no option but to go to the authorities because I was worried about mum's safety."
Ms Stewart, who said she was speaking on behalf of a number of relatives, said she welcomed any investigation into the care home.
"We don't want any more admissions until Clinton has a complete clean bill of health," she said.
"Some of the residents are very vulnerable, so relatives are understandably reluctant to speak out, but one is so concerned she's been sleeping in a chair beside her husband's bed because she doesn't trust the staff to keep him safe.
"All I've ever wanted to do is to make sure my mum and the other vulnerable residents are safe and well."
Following Ms Stewart's complaint to Cornwall Council, the CQC brought forward a routine inspection and visited the home in August.
Its report, published in September, said people's privacy, dignity and independence were not always respected and there were not always enough qualified, skilled and experienced staff to meet people's health and welfare needs.
Clinton House was required to make certain improvements and provided the CQC with an "action plan".
The CQC said it was "well aware" of recent concerns and said it has been working in conjunction with the council and health authority.
"Our overriding concern is the wellbeing of the people living at Clinton House," a spokesman said.
'End-of-life patients'
Although privately run, Cornwall Council and NHS Kernow provide funding for 21 residents at the home.
The council said the matters raised were "worrying", but the situation was being closely monitored.
"Cornwall Council and NHS Kernow suspended new placements at Clinton Care Nursing Home in St Austell on 10 September due to concerns raised about the safety of residents," a joint statement said.
"We take these concerns seriously... and we undertook an immediate review of residents."
Mr Clarkson said steps had been taken to improve matters and he hoped the suspension would soon be lifted.
He said there had been 10 deaths at the home in the past six months, but "none the coroner has any issues with".
"Clinton House deals with end-of-life patients and provides palliative care - it's a key function," he said.
"If relatives have any concerns about our care, I'd encourage them to speak to staff at Clinton House."