Dog dies after eating white substance on Cornwall beach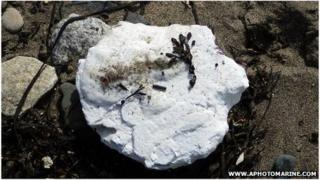 A dog has died after eating a "glutinous" substance which has washed up on beaches in west Cornwall.
Penzance vets said the three-year-old miniature schnauzer had eaten a white object on Long Rock beach on Tuesday.
Two other dogs are seriously ill after eating the same substance on beaches in the area, vets have said.
Dog owners have been warned to keep their animals away from west Cornwall's beaches. Coastguards are trying to identify the substance.
'Marble sized'
David Fenwick, who reported the "glutinous" substance at Long Rock to coastguards, said it smelled of firelighters.
"Some were the size of a cow pat, while others were much smaller, scattered all over the beach," he said.
Paul Moseley's golden retriever became ill after coming into contact with the substance at Praa Sands, about four miles (6km) from Long Rock, on Tuesday.
"Within 15 minutes she was sick," Mr Moseley said. "I presume she had eaten a small piece or licked it.
"Some of the pieces were as small as marbles."
Coastguards said another substance, described as "vegetable oil-like", was found washed up at Pedn Vounder beach, near the Minack Theatre, on Sunday.
Small pockets of the same substance were found at Porthcurno and Porthchapel beaches.
A spokesman for the Maritime and Coastguard Agency (MCA) said: "Samples of the suspected vegetable oil found near Land's End have been sent to two accredited laboratories for analysis.
"The MCA expects to have the results before the end of this week."