West Cornwall badger TB vaccine trial postponed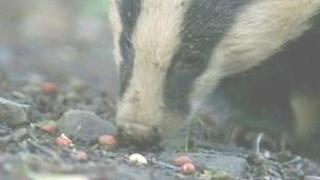 A new trial of TB badger vaccines in west Cornwall has been postponed because of poor weather.
Professor Rosie Woodroffe is working with local conservationists including Cornwall Badger Rescue to deliver the vaccinations.
She said heavy rain and strong winds would "not be fair" on badgers which could be left overnight in a trap.
The £2m scheme is seen as a possible long-term alternative to culling in a bid to possible causes of TB in cattle.
Prof Woodroffe, of the Zoological Society of London, said poor weather forecast for the rest of the week could mean vaccination being put off for several days.
Five farmers will take part in the pilot vaccination programme, with the project expected to expand over the next three years to cover 200 sq km (77 sq miles) of the Penwith area.
Trapping badgers so they can be vaccinated against TB, has been happening in parts of west Cornwall for three years.
The original small-scale project is increasing with funding from the government.
The National Farmers' Union (NFU) said it supported vaccination but it had questions over its effectiveness of the programme.