Tamar crossing tag fee could rise by 80p a month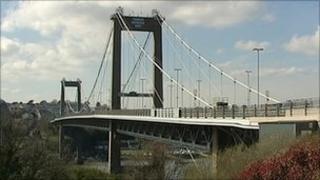 Drivers who buy electronic tags to cut the cost of crossing between Cornwall and Devon could be charged 80p a month more under new proposals.
The committee that runs the Tamar Bridge and Torpoint ferry said it was facing a shortfall of up to £1m a year.
It is looking at increasing the charge for a Tamar Tag which currently allows drivers to cross for half the usual £1.50 fee.
A public consultation has started and will run until 7 November.
The tolls at the two crossings were last increased in March 2010, with the Tamar Tag electronic payment scheme being introduced in 2007.
A spokesperson for the Tamar Bridge and Torpoint ferry joint committee said it was the second largest such system in the UK (after Dartford) with some 95,000 tags issued against 65,000 accounts.
The committee is looking at introducing the new fee from April 2014.