Isles of Scilly Sunday flight plan approved by councillors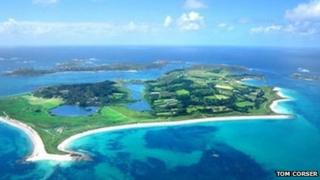 Plans to allow Sunday flights to the Isles of Scilly from April 2014 have been approved by councillors.
The Council of the Isles of Scilly heard the numbers flying to St Mary's Airport were predicted to have fallen for the eleventh year in a row.
The meeting was told some people did not visit the islands as there was no Sunday flight.
The Isles of Scilly Steamship Company, which runs the flights, said talks would be needed with regulators.
The plan was passed by 14 votes to two.
'Change Scilly forever'
When the budget was set for St Mary's Airport for this financial year, it was predicted about 9,000 landings would help bring in 108,000 passengers leading to an income of about £1.27m.
During the meeting, the council heard passengers numbers could be 16,000 fewer than forecast, leading to a possible loss in predicted income of £172,000.
Earlier this year, council figures showed air passengers to the archipelago in June were down 25% compared with the same time last year.
At the meeting, councillor Robert Dorrien Smith said he believed the island could not deal with continuing declines in visitor numbers if "our main income is tourism".
Councillor Adrian Davis said he had "strong reservations" about Sunday flying.
He said: "I think that this could be a move that would change Scilly forever."
But Councillor James Francis added it was "quite clear" there were a number of people who did not visit the islands because they could not travel on a Sunday.
Islanders blamed the decline in numbers on the recession and the loss of the British International Helicopters (BIH) service last October.
Currently the Steamship Company's Skybus planes offer the only flights to the islands.
However, despite the approval, the company's chairman, Andrew May, said it only meant the firm could have "more detailed discussions to see what can be reasonably be done".
He said: "There is still a lot of detailed work and negotiations needed.
"It's a highly-regulated industry. We need to work up a business case and we need to identify potential risks and costs."
He added it was important to take "everybody's views into account", including possible concerns by residents about possible plane noise every day of the week.
The firm also operates passenger ferry Scillonian III, which sails to St Mary's from Penzance in Cornwall.