Beheaded mute swans 'killed intentionally' in Cornwall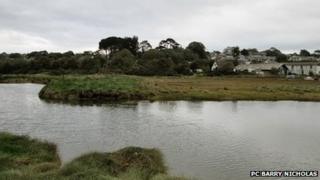 Four mute swans which were found beheaded in Cornwall are believed to have been killed intentionally, police have said.
The birds were found in Restronguet Creek, near Devoran.
A Devon and Cornwall Police spokesman said it was unclear if two more dead birds in an inaccessible part of the site were also beheaded.
He said the swans, which were from a protected species, were in "various states of decomposition".
The birds are protected under the Wildlife and Countryside Act 1981.
PC Paul Freestone said: "At this time we have no way of knowing how these swans died."
He added the fact the birds had their heads removed had led officers to believe their deaths were not accidental.