Cornish festival to remember singer Brenda Wootton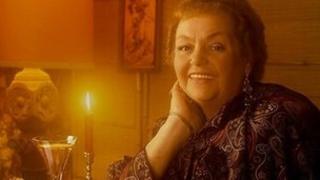 Lowender Peran, Cornwall's biggest Celtic festival, is celebrating one of the county's most famous singers.
Artists have gathered together to mark "Cornwall's distinctive heritage of traditional music".
One of the weekend's highlights will be a concert to celebrate what would have been singer Brenda Wootton's 85th birthday.
The music made famous by the singer, known as the 'Voice of Cornwall', will be performed by local acts.
Lowender Peran, which takes place in Perranporth until Sunday, has commissioned four local singer-songwriters to give their own arrangements to one of the songs made famous by Mrs Wootton.
The late BBC Radio Cornwall presenter was also a well loved star throughout France, especially in Brittany.
During her career she performed extensively across mainland Europe, Canada and Australia, and produced 18 albums.
Mrs Wootton played sell out concerts in prestigious venues such as the Olympia Music Hall in Paris.
She was also a dedicated supporter of Lowender Peran from the festival's inception 35 years ago.
The Voice of Cornwall: Brenda Wootton Anniversary Concert takes place at the Ponsmere Hotel in Perranporth on Sunday afternoon.
The concert will be compered by John the Fish, a fisherman turned folk singer who performed with Mrs Wootton on several recordings.