Torpoint ferry service back to normal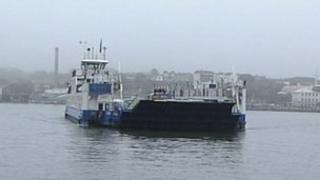 One of the Torpoint ferries which has been out of action for a month-long refit has returned to service.
The repairs meant there were just two ferries operating at busy times - running every 15 minutes.
The crossing is owned by two local authorities, Cornwall Council and Plymouth City Council.
Previous figures showed about 2m vehicles use the link between Devonport and Torpoint in Cornwall each year.
A spokesperson from the service said the refit was "a key part of the planned maintenance programme for the vessel, and allows essential work to be undertaken in dry dock conditions".
The refit was carried out at A&P in Falmouth.