Proposed council farm rent increases 'alarming'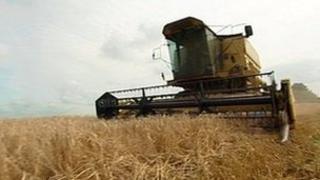 The use of valuers outside Cornwall to determine rents for council tenant farmers has resulted in "alarming" proposed increases, critics say.
Property consultancy Bruton Knowles, from Gloucester, now provides rent determinations for Cornwall Council.
Farmers and land valuers said proposed increases had been put forward of up to 50%.
The council said the majority of 34 rises agreed so far had been about 13% and it worked to ensure fair rents.
Farm panel
Rent reviews have been outsourced following cuts in council staff numbers.
Roger Drew, who has been a tenant on his 73-acre (29 hectare) farm near Redruth for 22 years, said he was used to reviews every three years and, in the past, had seen increases of up to 15%.
But he said a proposed rent increase "from about £6,000 to about £9,000" was "a bit of shock" after a valuer from Bruton Knowles visited in the spring.
He said he had negotiated an increase of about £1,100, but his farm produced "not a lot of profit".
"There's not the income within the farm itself to sustain any extra rent," he said.
He added he also worked as a delivery driver and on other farms to keep afloat.
Land valuer Elwyn Thomas, who has been helping some of those dealing with what were thought to be excessively high proposed rises, said he had recently seen some figures which were "alarmingly out".
'Difficult balance'
Mr Thomas, from Lodge and Thomas in Truro, has worked with the Cornwall Council Farm Estate for more than 50 years.
He said: "We've settled the majority of the cases, but I still think they are higher than they should be."
He said any rent had to take into account other costs to Cornish farmers, including transportation to market.
Those costs were higher in Cornwall than the rest of the country because of the distances involved, he added.
"It's a different world," he said. "Transportation is expensive. I don't think such things have been taken into account."
When asked to comment, Bruton Knowles referred the BBC to Cornwall Council.
Adam Paynter, the cabinet member with responsibility for farms at the Liberal Democrat/Independent-led council, said he had raised concerns with officers about some proposed rent increases.
He added that the authority's farm panel would ensure any rises were fair, but it could be "a difficult balance".