Threemilestone judicial review bid rejected at High Court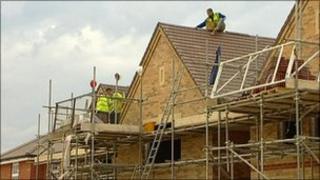 A bid for a judicial review of Cornwall Council's decision to grant planning permission for a £400m development has been rejected at the High Court.
The plans for Langarth at Threemilestone, which include 1,500 homes and a school, were approved by Cornwall Council in July.
Truro City Council wanted a judicial review, following concerns about the impact the development will have.
The council said it was considering whether to appeal against the decision.
'Naturally delighted'
Roger Gazzard, Truro City Council town clerk, said: "We took the action because we were very concerned about the impact the development will have, particularly the lack of infrastructure to do with roads and sewage, and we remain concerned and we will decide over the next couple of days whether to appeal the decision."
Mr Gazzard said the council will take into account how much an appeal would cost and what the judge has said about the strength of its case.
"This is a legal process and we have to take into account what the legal view has been," he said.
"We will take all those factors into account and decided whether to go forward or not."
The development will include 525 affordable homes, a primary school, care village, community centre, hotel and a 600-space extension to the park-and-ride scheme.
Inox Group, the Exeter-based company behind the plans, said it was "naturally delighted" with the High Court's decision.
Stadium funding
Rob Saltmarsh, Inox managing director, said: "Inox appreciates that Truro City Council was exercising its democratic right in bringing this case, but we felt from the outset that there were no justifiable grounds for the claim.
"We understand that the city council could still ask for the case to be heard in open court, but sincerely hope that this ruling is an end to the matter."
The company said it is now looking to start construction in 2015.
Inox's Langarth development would also create some of the shared infrastructure for the proposed Stadium for Cornwall, which was granted planning permission in April.
The Stadium for Cornwall Group said: "Importantly for us, this decision now enables serious funding discussions to take place for the long-awaited stadium project, making its construction a reality instead of a possibility."