Cornwall's out-of-hours GP service, Serco, in 'early talks' with Devon Doctors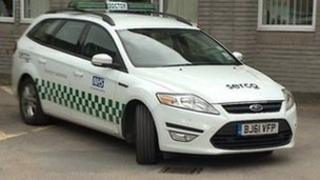 Cornwall's out-of-hours GP service could be taken over by doctors from Devon.
Private contractor Serco has said that it is considering contracting out the "clinical elements" of its operation.
The Devon Doctors consortium said it has had "early-stage talks" with Serco, although no decision has yet been made.
In July, Serco was heavily criticised for failing to meet national standards, falsifying data and a "bullying culture".
The contractor, which has provided Cornwall's out-of-hours GP service since 2006, confirmed it has been in talks with the NHS to hand over the delivery of some of its services.
'No decision made'
The company's director in Cornwall, Dr Louis Warren, said: "We have been working with our NHS customers to improve integration of our service with other providers in the region and the NHS is considering a number of options, including the possibility of the clinical elements of Serco's service being delivered by a suitable specialist subcontractor."
The chairman of Devon Doctors Bruce Hughes stressed that while talks have been held, no decisions have been made.
The consortium is a not-for-profit enterprise run by GPs.
Earlier this year, a parliamentary report by the Public Accounts Committee examined failings in 2012 by Serco - whose current five-year contract is worth £32m.
The select committee report found the out-of-hours service was "not good enough" and said Serco had struggled to ensure enough staff were available to fill all its clinic and car shifts.
In 2012 whistleblowers raised concerns about staffing levels and claimed staff were falsifying data to make the service appear faster.
Serco said it had taken "swift and decisive action to put the situation right" and claimed it had a customer satisfaction rating of 95% or higher.
A Care Quality Commission report has shown improvements in the past year.