Liaison and Diversion project 'cuts reoffending'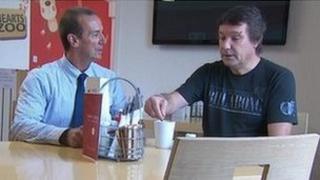 A project being piloted in Cornwall has helped to cut crime, figures show, and ensure people with mental health problems get the treatment they need.
The Liaison and Diversion scheme involves psychiatric nurses who are based in police stations.
Reoffending rates of those with mental health issues fell by 49% over a six-month period, bosses said.
Pilot schemes are also operating in Dorset and Somerset and, from last month, in Devon.
The project is run by Devon and Cornwall Police and Cornwall Partnership Foundation NHS Trust.
Court support
Research by the police and the trust found 25% of people going into police custody centres in Cornwall, and 40% of those in regular contact with the police, were known to have a history of mental illness.
Now, when officers in custody centres or the community, think someone could be mentally unwell, they are referred for assessment.
"The neighbourhood teams can refer in to the workers somebody that they've got concerns for and pick them up before they have even committed an offence," Insp Mark Bolt from Devon and Cornwall Police said.
"But if they do then commit an offence, or are suspected of an offence, then officers can refer them to the team and see if their offending behaviour is due to their mental illness.
"If it is, then the team can offer them support and hopefully that support will then make them better so they won't commit further offences."
Spokesman Forbes Earl said over a six-month period, the number of custody incidents involving people with mental health issues fell from 336 to 144 (57%), while the number of court appearances dropped dramatically by 64% - from 214 to 77.
Set bungalow alight
Overall, the reduction in Cornwall was 49%, Mr Earl added.
Jim Beresford, one of the team's psychiatric nurses, said: "The community at large benefit from someone whose circumstances are stabilised and their social circumstance and health circumstances are stabilised.
"They are at less risk of offending and therefore no longer come to the attention of the police or courts."
James, who was arrested after setting fire to his house while clinically depressed, said the intervention of the liaison team helped him turn his life around.
"I'd barricaded myself in the bungalow, chucked petrol over myself and set alight to the bungalow," James said.
Mr Beresford gave evidence on James's behalf and ensured he was given the medication and support he needed.
"I went from doom and gloom and despair and not seeing any light at the end of the tunnel, to basically when I met Jim, everything turned around for the positive," James said.
"I'm one of the lucky ones, but as I like to say, better late than never, people are getting wise to everything, and I'm a good example of someone who got the help they needed, as I wouldn't have got it if I'd gone to prison."