Cornwall Council 'cannot rule out' further cuts to bus services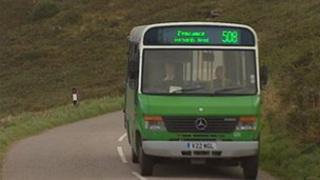 Cornwall Council has said it "cannot rule out" the loss of further bus services with low passenger numbers.
The warning comes as it reveals full details of changes to Cornwall's bus routes - including some services to replace those that were to be axed.
The cuts were blamed on reductions in the council's public transport budget and commercial decisions by the operators, Western Greyhound and First.
Some decisions affected entire routes and others, the frequency of journeys.
Councillor Bert Biscoe, the portfolio holder for highways and transport, said he expected a further cut in government bus subsidy next year.
"There is little doubt, that without sufficient funding, the face of rural bus services will change and, going forward, we cannot rule out the loss of services where passenger numbers are particularly low," he said.
'Minimise the impact'
The council said it had been working with the bus companies, sought advice from bus user groups and investigated other solutions, such as services run by community bus groups and voluntary organisations, to protect some services.
"The council's staff and bus operators have worked together to come up with a revised network which, while somewhat reduced, does ensure that those who need buses can get buses," Mr Biscoe said.
Gordon Edwards, from TravelWatch SouthWest, added: "Our local members have worked tirelessly... to minimise the impact of these changes on bus users and ensure that people can still access colleges and schools, places of work, hospitals, health and day centres and local shops.
"It is, however, recognised that a very small minority of existing bus users will unfortunately still suffer inconvenience from these service revisions."
The changes will come into effect from 3 November and details of timetable changes can be found at www.travelinesw.com.