Cawsand homes evacuated after Old Ship pub fire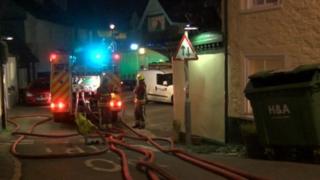 A number of homes had to be evacuated on Saturday evening after a fire at a derelict pub in Cornwall.
The blaze at the Old Ship in Garret Street, Cawsand, started at about 19:30 BST.
The pub, which was in the middle of a row of terraced houses, was destroyed by the fire. Crews had to pump water directly from the sea to prevent the fire spreading.
No-one was injured and an investigation into the cause of the fire has begun.
'Flames and smoke'
About 12 residents from at least five nearby properties were forced to leave their homes and spend the night with friends and family.
A structural engineer is due to assess the stability of the pub and adjoining houses later.
Cornwall Fire and Rescue Service spokesman Mark Blatchford said difficult access to the narrow street meant pumps and engines had to park about 200m (650ft) away from the burning building.
"The property was well alight with flames and smoke coming out of every window and door," he said.
"The pub was pretty much gone when we arrived, our priority was to stop the fire spreading up and down the street, so we had to evacuate the properties nearby.
"Water supplies aren't great. We had to set a base pump into the sea but fortunately it was high tide."
Anyone who witnessed the beginning of the fire has been asked to contact Devon and Cornwall Police.
"We are investigating with Cornwall Fire Service, but it's too early to speculate on how the fire started," a police spokesman said.