Watergate Bay paddleboard championship attracts crowds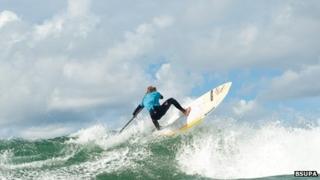 "Pretty perfect" conditions have attracted hundreds of spectators to the British Stand Up Paddleboard Championship in Cornwall.
The two-day event, organised by the British Stand Up Paddle Association (BSUPA) is being held at Watergate Bay.
"There's a nice clean 2-3ft wave and the sun's out, so I'd say it's pretty perfect," events director Richard Marsh said.
BSUPA said the "family-friendly" sport was growing in popularity.
'Testing conditions'
"It really has something for everyone and this year we've got men, woman and children competing," Mr Marsh said.
"We have competitors from across Britain - including a teenager from Jersey
"Last year's conditions were a bit testing to say the least, but this year - although it would be great if the swell was another couple of feet bigger - it's good enough for everyone."
The championship is being hosted by the Extreme Academy.