Ship firm fined in 'landmark' Cornish pollution case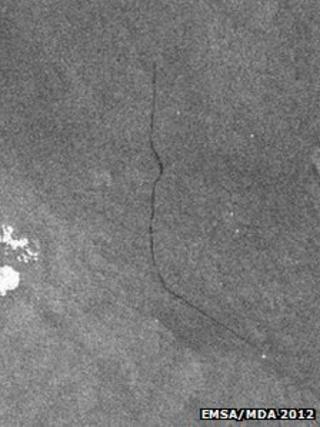 A shipping company that left a 20-mile stretch of pollution off Cornwall's coast has been fined £15,000.
Maersk Tankers Singapore Pte Ltd, was sentenced at Truro Magistrates' Court after pleading guilty to allowing one of its ships to pollute the sea.
The Maritime and Coastguard Agency (MCA) said it was a "landmark case".
It is the first time the MCA has used satellite imagery as the main source of evidence in a maritime pollution prosecution in the UK.
'Powerful message'
In February 2012, the ship, Maersk Kiera was nine miles off Land's End - within the UK exclusion zone - when it was photographed by a satellite.
The image showed the ship, which was travelling from Liverpool, with the trail of pollution behind it.
The ship had been washing its tanks of palm oil, which left residue in the water.
However, a lawyer representing the company said there was not any evidence that the pollution had caused any damage to the marine environment.
A spokesman for the MCA said: "It's the first time satellite imagery has been used in the UK that has led to a successful prosecution.
"This sends out a powerful message about prevention and enforcement."