Plan to double Newquay Airport charge criticised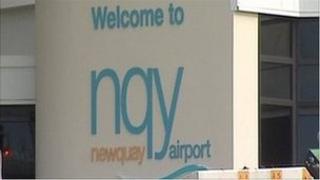 A council has been accused of "shooting itself in its foot" with plans to double the fees for departures from Newquay Airport.
Cornwall Council, which runs the airport, plans to increase the "development fee" from £5 to £10.
The authority believes £400,000 could be raised by doubling the charge, although Mebyon Kernow councillor Lance Dyer said it was a "ridiculous idea".
Cornwall Council said it was right for passengers to "contribute a bit more".
'Another blow'
Mr Dyer, a Truro city councillor, said the move could discourage passengers and he feared airlines could cut flights - with both Easyjet and Ryanair having criticised the charge previously.
Stephen Gilbert, Liberal Democrat MP for St Austell and Newquay, said it was "another blow to Newquay Airport".
On Tuesday, it was announced flights between Newquay and Gatwick were to end.
"There's no doubt the airport needs continued investment and it's right that those using it pay a portion of that," Mr Gilbert said.
"But we need to be doing all we can to make Newquay airport attractive to airline operators and passengers and this won't help in that effort."
However, councillor Geoff Brown, the Liberal Democrat member for Newquay central, said the authority was "desperately trying not to increase the subsidy" and the only alternative is to increase the fee.
"We would love to see no charge at all but I'm sure people don't want to see any more council money pumped into it either."
He claimed that the rise was "probably not going to make a lot of difference".
Adam Paynter, Cornwall Council's cabinet member for partnerships, said it was one of the proposals in the draft budget and no decision had been made.
"Cornwall Council taxpayers currently subsidise the operations at Newquay Airport by £3m per year."
He added the authority believed it was "right that those who use the service should be asked to contribute a bit more".
The fee, on top of air passenger duty, was introduced in October 2006 to raise funds to invest in the former military airbase.
In June, Easyjet criticised the levy as putting companies off flying from Cornwall.
In 2011, Ryanair pulled out of Newquay blaming the "continued imposition" of the charge.