St Ives premises evacuated after large fire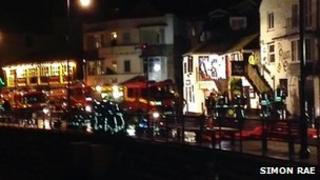 A large fire has broken out in St Ives, causing a number of premises to be evacuated.
Cornwall Fire and Rescue Service was called to the burning two-storey building, which houses a tea-room and residential accommodation, at about 19:30 BST on Thursday.
The fire service said there were seven fire engines at the scene. Police officers have set up a perimeter around Wharf Road.
​It is not known what caused the fire.
A spokesman for the fire service added: "Good progress being made at this time.
"At this time it is believed no persons were in the residential property at the time of the blaze."
The fire service said six people from adjoining properties would be unable to return to their accommodation until inspections had been carried out.