Royal Cornwall Hospital sorry over woman who died alone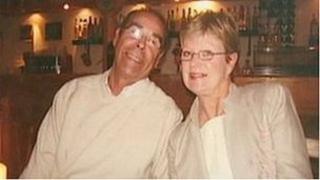 Hospital bosses have apologised to a man who claimed he was stopped from seeing his dying wife.
Trevor Law's wife Janet, 69, died alone at the Royal Cornwall Hospital in March after suffering complications connected to ovarian cancer.
The hospital admitted it may have discouraged Mr Law, 73, from coming in because of a Norovirus outbreak.
A spokesperson said the case had led to a review of the way it communicated with families during outbreaks.
Mrs Law was admitted to the Royal Cornwall Hospital on 22 March.
The family said that the next day they were told they could not see her because of the outbreak.
'Nobody told me'
Mr Law, from Connor Downs, said he had been told by a woman on the telephone he could not come in because of the Norovirus outbreak.
He added: "Afterwards I found I could have gone up there and signed a form saying if I caught Norovirus I wouldn't sue the hospital.
"But nobody told me and Janet died alone the next day."
The Royal Cornwall Hospitals Trust said it should never turn away the family of a critically ill patient.
The case had contributed to a change in the way it communicated with family and visitors during a Norovirus outbreak.
It also confirmed that Mr Law had been invited to become a patient ambassador so he can work with the hospital on improvements in care for cancer patients.