St Mawes hotels flooded after torrential rain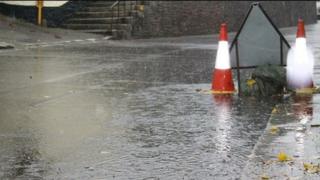 Two hotels have been flooded in Cornwall following torrential rainfall.
Fire crews have pumped water from the properties in St Mawes. A spokesman from Cornwall Fire and Rescue Service said they had suffered "minor flooding".
A number of roads across the county have been partially flooded including sections of the A39 and A38.
The Met Office has issued a yellow warning of rain for the south-west of England until 08:00 BST on Friday.
Flood water at the seafront hotel, The Idle Rocks, was pumped out by fire crews.
Sid Williams, concierge at the hotel, said: "It's a bit of a bowl down here and St Mawes is known to flood, so it's not a rarity.
"The fire engine just came down because there was a blocked drain and there was no where for the water to go, so it was in the road.
"It pumped some water out and cleared that off, but it was nothing major."
The weather conditions also resulted in some shops being flooded in Truro and with a number of roads affected in the surrounding area.
New Bridge Street in the centre of Truro was one of those badly affected by the torrential rain.