Cornwall's Eden Project to axe more jobs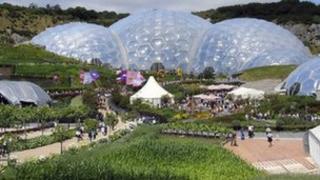 One of the UK's most popular tourist attractions has announced further job losses just months after axing 53 posts.
The Eden Project, near St Austell in Cornwall, announced 15 posts will be lost.
Staff have been told and a 30-day consultation is under way.
Visitor numbers have fallen at the attraction and earlier this year Eden asked the government for funding to help it through a "difficult time".
The attraction recorded losses of nearly £2m in 2010-11 and last year announced debts of £5m.
The Eden Project, which was built in a 160-year-old china clay quarry, describes itself as being "the largest indoor rainforest in the world".
In a statement the attraction said: "In common with other organisations locally and nationally, the Eden Project is having to reduce its costs further and regrettably this will result in the loss of up to 15 posts.
"Eden Project Ltd went through a major restructure earlier this year to help cut its annual costs by more than £2m and this resulted in the loss of 53 full-time equivalent jobs."
At present, the project has 394 full-time equivalent posts.
Sir Tim Smit, co-founder of the Eden Project, stepped aside as its chief executive in August.