West Cornwall badger TB vaccine trial to start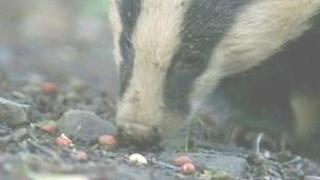 A new trial of TB badger vaccines in West Cornwall will start in the next few days, a professor in animal disease has confirmed.
Professor Rosie Woodroffe is working with local conservationists on vaccinations, using trained volunteers.
The £2m scheme is seen as a possible long-term alternative to culling, in work to tackle TB in cattle.
Farmers' union the NFU said it supported vaccination but there were questions over its effectiveness.
The project will see a vaccination area which will cover 200 sq km of the Penwith area.
Professor Woodroffe, of the Zoological Society of London, said: "This area is very promising for TB control because it is surrounded by sea on three sides.
"So, we're not going to have any problems of badgers coming in."
'Tighten up security'
Five farmers will take part in the vaccination programme this autumn, with the project expected to expand and last for seven years.
Trapping badgers so they can be vaccinated against TB, has been happening in parts of west Cornwall for three years.
The original small-scale project is increasing, thanks to funding from the government.
Bob Speechley, of Cornwall Badger Rescue, said: "We have got to work as a group with the farmers.
"We need to get the vaccination going for the badgers, we desperately need to use the cattle vaccine and we need to tighten up security on farms.
"If we can do that, I think we will see a significant drop in TB."
The NFU said that while it "fully supports" the development of vaccines for badgers, the only vaccine currently available is in an injectable form, which "presents problems".
'Costly process'
"You need to cage-trap the badgers to vaccinate them", a spokesman said.
"And you have to do it annually for a period of at least five years.
"This makes the process costly... it needs to be carried out by people who have been on accredited courses.
"And here too, there are still question marks over the efficacy of the vaccine."
The NFU added there was no evidence as yet to show vaccinating a proportion of the badger population actually resulted in a reduced risk to cattle.
"An oral bait vaccine is likely to offer the most successful route forwards," the NFU said.
"But, this option is still some years away from becoming a part of any badger control plan."