Meningitis boy Marshall Janson tries out prosthetic blades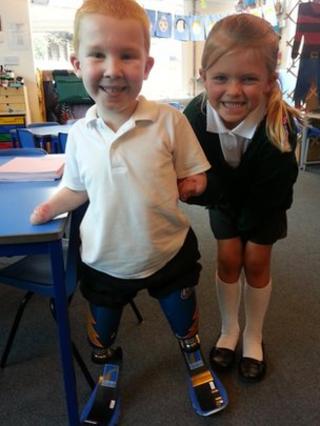 A five-year-old boy who had his hands and legs amputated after contracting meningitis has been given new prosthetic blades.
In December 2008 Marshall Janson was rushed to hospital after contracting meningococcal meningitis.
As a result both his hands and both his legs were amputated.
The youngster from Carharrack, near Redruth, Cornwall, has now been given the new blades which include "liners" to make them more comfortable.
Marshall was admitted to the Royal Cornwall Hospital on Boxing Day 2008, before being transferred to Bristol Children's Hospital.
Doctors battled for hours to save his life after his vital organs failed three times.
Marshall escaped brain damage and his sight and hearing were not impaired.
Power Rangers design
Marshall received his first set of legs in July 2009, but they were not designed for him to walk on, as they were fixed in a standing posture and had no knee joints.
Because of Marshall's age, the new blades, which cost £12,000, will last between six months and a year.
Marshall chose to have a Power Rangers design on the blades, based on his favourite cartoon characters.
His family launched the Handstand Appeal to help pay for Marshall's artificial legs.
Marshall's mother Stephanie Harris said: "He was getting blisters with his other legs. He couldn't keep up with the others.
"He's very excited now and can't wait to play tag with his friends and catch them."
The blades were made by Dorset Orthopaedic, a Hampshire-based rehabilitation company that manufactures and fits silicone prosthetic limbs.