Cornish brewery funds HMS Charybdis trip for landlady's daughter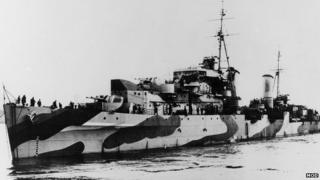 A 75-year-old woman has paid her respects to her father for the first - and almost certainly the last time - thanks to the chance discovery of a landlady's letter to a Cornish brewery.
Valerie (Val) Gill was just five years old when her father was lost at sea during World War II.
Leslie Wilfred Hearn was one of nearly 500 men who died when HMS Charybdis was torpedoed on 23 October 1943 as Royal Navy ships attempted to intercept a German convoy in the Bay of St Malo.
"Sadly I have very few memories of my father, because he was mainly away at sea," she told BBC News.
"He was a big, gentle man, but he wasn't around much so I don't remember too much about him."
Shortly after the sinking, the bodies of 21 Royal Navy sailors and Royal Marines washed up on Guernsey, at the time occupied by German forces.
When the German High Command agreed to bury the dead with full military honours, 5,000 islanders seized the opportunity to pay their respects, while at the same time showing their loyalty to Britain and their opposition to their occupiers.
The Germans subsequently banned civilians from any further military funerals, but every year since 1947, a commemoration service in honour of those who perished at sea.
On learning of her husband's death Petty Officer Hearn's widow Edna, who was the first tenant landlady of the Unicorn Inn in Camborne, wrote to the St Austell Brewery to say that her husband had been lost at sea.
"That was a really tough time - particularly for my mother, but running the pub kept her busy," Mrs Gill said.
"For me the Unicorn was big old rambling place and on the whole I was very happy.
"There were a lot of good times and I'd say it's not a bad place for a child to grow up in - because pub life widens your horizons."
The correspondence between the landlady and brewery from nearly 70 years ago was recently discovered by St Austell Brewery's archivist Chris Knight.
"As part of our new archive project I have about 19 cabinets full of correspondence which will take about three years to go through," Mr Knight said.
"But I was randomly sifting through some letters when I came across Edna's letters and they just touched a chord."
Edna Fine - who subsequently remarried and had another daughter - died in 1982, but after "a little detective work and two or three attempts" Mr Knight tracked Mrs Gill down in Redruth, where she lives with her husband David.
"To say it was a surprise is an understatement - my flabber was totally ghasted," Mrs Gill said.
She said her and her mother had never been able to attend the Charybdis memorial in Guernsey.
"Mother had the business, she'd married again - I was working and had children and quite plainly it was just not financially viable," she said.
Because 2013 could be the final time the sinking of the Charybdis is fully commemorated - and because it "just seemed the right thing to do", St Austell Brewery organised and funded a two-day trip to Guernsey for Mr and Mrs Gill.
Following an informal "get together" on Saturday evening, the Gills attended a memorial service at St John's Church in St Peter Port on Sunday morning, followed by a short ceremony at Foulon Cemetery, where the 21 bodies which washed ashore were buried.
"It's been very emotional, but very wonderful," she said.
The wreck of Charybdis was finally located in 1993 in 83 metres of water and although Mr Hearn's body was never recovered, Mrs Gill says she is proud of his posthumous medals.
Mrs Gill said one of the most touching moments was meeting four of the Charybdis survivors - one of whom told her he thought he remembered her father.
"My father was in the sick berth, which he told me was hit by the first torpedo, so he said he wouldn't have stood a chance, but he went down with his ship - and somehow that's quite comforting," she added.