Cornwall dementia sufferers supported with £1m grant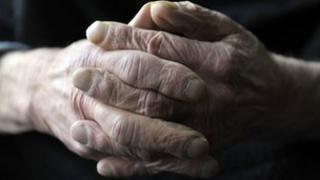 More than £1m to help dementia patients has been awarded to hospitals in Cornwall.
The money, from the Department of Health, has been given to the Royal Cornwall Hospitals Trust (RCHT) and Peninsula Community Health (PCH).
It will be used to paint wards with a colour scheme designed to help patients know where they are
The Royal Cornwall Hospital, St Michaels, West Cornwall and 14 Community Hospitals will benefit.
Sue Greenwood, of Peninsula Community Health, said: "All of the bathroom doors will have the same colour.
"Research has told us that quite vibrant colours are colours that stay with people with dementia much longer."
Dementia UK estimates more than 9,000 people are living with the condition in Cornwall.
Frazer Underwood, the consultant nurse for older people and associate director of nursing at the RCHT, said: "The changes will make a big impact. It will help with orientation, with better signage and the colour schemes.
"They are simple changes which will help people with dementia and people who are vulnerable in our care services."