St Ives flats flood victims evacuated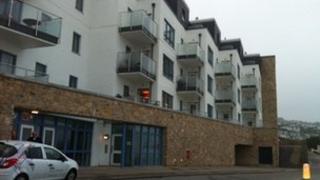 Firefighters have worked through the night after a burst water main flooded a block of sheltered flats in west Cornwall.
Several people had to be evacuated from their homes in the four-storey block in St Ives.
Three flats on Porthmeor Beach Road suffered severe water damage.
The crews were called to the scene at 02:40 BST where a main water pipe supplying the block of 34 flats had burst.
The water was leaking on the second floor of the four-storey flat complex.
Three flats had about six inches (15cm) of water on the floor on crew's arrival, a Cornwall Fire Service spokesperson said.
The Red Cross is looking after people who are unable to get back to their homes.
Firefighters, who had to isolate the electrics, have now left the scene.