Bodmin swans 'have terrible life and should be moved'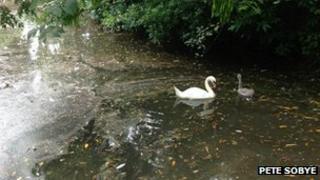 Swans in a lake in Cornwall should be moved because they have a "terrible life", a charity founder says.
Jayne Castling, who was involved with Swan Lifeline in Eton, said birds in Bodmin were in a muddy lake they were unable to get in or out of.
Town council leader Lance Kennedy said the council had consulted with experts and it was not believed the birds were at risk.
The RSPCA said birds would be moved if they were in immediate danger.
Ms Castling said she was "livid" at the conditions the birds were living in.
'Nothing wrong'
She said: "These swans are quite old, they have a terrible life.
"The birds cannot get in and out [of the lake], it's muddy, there's nothing for them to eat, there isn't a single bit of green.
"They're meant to get out on to grass."
Mr Kennedy said: "There's nothing wrong with the birds. They're not suffering.
"We've spoken with many experts and none of them think there's anything wrong."
He said ramps into the lake had been checked and the birds can get out.
He explained experts told them the birds might be staying in the lake because they were thought to be "too lazy because they're too well fed."
John Phipps, of the RSPCA, said: "Everyone's on the same side.
"We have to talk with Natural England to move birds that aren't disabled or don't need removing immediately.
"If they do need moving immediately, we do it."