New canine member for Cornwall search and rescue team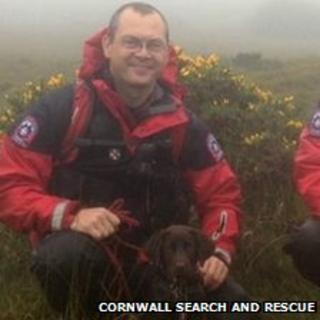 A new canine team member has joined Cornwall's search and rescue team for training.
Labrador Ziva is being trained to search for lost, missing and injured people, the team said.
Training takes around two years before dogs and handlers have the skills to operate effectively in searches.
When trained, she should go off and detect a missing person before returning to her handler, Phill Matthews, and guiding him to her find.
Ziva is one of three trainee search dogs currently being trained, the charity said.
Team leader and dog handler Jim Galliene said: "Search dogs are such a vital asset to the team that we're really pleased to see another recruit in our ranks.
"Ziva and her handler, Phill Matthews, have a long way to go before they reach the high standard expected of search dogs, but training out on the moors is no great hardship."