Christian hotel owners in gay row selling up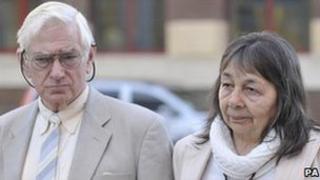 The Christian owners of a guesthouse who refused to let a gay couple stay in a double room say they are selling up because they cannot advertise via England's main tourism body.
Hazelmary and Peter Bull, who run Chymorvah Hotel in Marazion, turned away the men from Bristol in 2008.
Judges twice ruled they broke the law.
The couple said a 20-year association with Visit England ended as the guesthouse fell foul of it equal rights obligations.
Mr and Mrs Bull denied either direct or indirect discrimination against civil partners Steven Preddy and Martyn Hall, saying they regarded any sex outside marriage as a "sin".
They argued their policy of restricting double beds to married couples in accordance with their religious beliefs was not directed at sexual orientation but sexual practice.
But Bristol County Court and the Court of Appeal ruled they had acted unlawfully.
Bible guidance
Their case is due to be heard in the Supreme Court on 9 October.
Mrs Bull said it was difficult to attract custom without the help of Visit England.
"We never thought we would leave like this," she said.
"We were with Visit England for more than 20 years, but we had to part company because we agreed we were not going to change our policy and the government policy had already changed.
"We were three star rated, but, because we're not with Visit England anymore, we're unable to go in many publications and websites [which require the Visit England ratings].
"We always ran our business in accordance with what it says in the Bible. We are responsible for what happens under our own roof, and it was important we abided by that.
"Can't we find some middle ground that allows two different lifestyles to live with each other?"
Visit England said tourism providers "should treat everyone accessing their goods, facilities or services fairly".
It said equal treatment should be "regardless of their age, gender, race, sexual orientation, disability, gender reassignment, religion or belief, and guard against making assumptions about the characteristics of individuals".