Cornwall Council accepts £1.4m for West Carlcaze project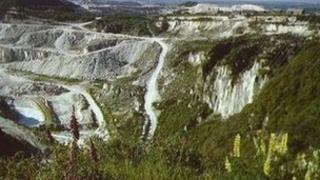 A scaled back housing project in Cornwall looks set to be built following an award of £1.4m funding from the government.
Up to 1,500 homes, a primary school and employment space are among the plans for West Carclaze, near St Austell.
Cornwall Council had bid for the money which will be used to develop a master plan and planning application.
A larger version of the scheme was put on hold in 2012 by firm Eco-Bos, as a result of the economic climate.
To qualify for government support, the so-called "eco-community" must meet a number of objectives on sustainability, including zero carbon buildings, high levels of recycling and large green spaces.
The original plans were for 2,000 homes, of which up to 40% were expected to be affordable homes in the West Carlclaze and Baal area.
'High quality development'
Cornwall Council, which is working with the firm, said the smaller application reflected comments made by the community.
The new proposals will focus on West Carclaze, leaving the Baal area largely unchanged, the authority added.
Councillor Julian German said the aim was to achieve "a high quality development" which would serve local people and attract investment.
However, campaigner Andrew Dean from the group 'No Eco Town' said: "We seem to be building to cater for an influx of people from outside the county, whereas we should be building affordable homes for people who are already here."
Cornwall Council said a proportion of the new development would be affordable, although the precise amount had not been decided.
The grant has been provided by the Department for Communities and Local Government.
The project is part of the council's plans to regenerate the china clay works in mid Cornwall.
Planning permission is not expected to be granted until early 2015, with work starting later that year, the authority added.