Vintage gig rowing boats to visit Isles of Scilly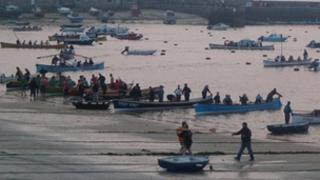 Three gig boats, believed to be the oldest in the world, are making a special trip to the Isles of Scilly.
It is the first time in their near 200-year lives that Newquay, Treffry and Dove have been to the islands together.
The trip has been arranged by Newquay Gig Club to mark 50 years of rowing against boats from Scilly.
The gigs have taken part in the World Pilot Gig Championship on Scilly over the years, but they have never been on the islands at the same time.
The boat Newquay was made in 1812, Dove in 1820, and Trefry in 1838.
The three returned to the water in 2008 thanks to a Heritage Lottery grant which funded their refurbishment.
The practice of gig rowing is believed to date back to the 1700s, when vessels around the coast of Cornwall and the Isles of Scilly needed a pilot to help them navigate their way through difficult waters.
A Cornish pilot gig is a six-oared rowing boat, 32 feet (9.8m) in length and made of elm.
Philip Trebilcock, the secretary of Newquay Gig Club, said: "On Saturday afternoon a lot of our older rowers, who rowed in the 60s, will be taking part in a commemorative row.
"The young guys have races organised too."
Gig racing in Cornwall became a popular sport from the 1830s.
The gig championship started in 1989 when 19 boats competed.
More than 130 teams took part in the 24th gig championship, in May, racing in the wooden boats.