Kittens thrown from car in Cornwall was 'tragic accident'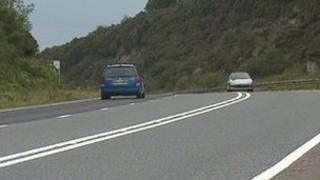 Two kittens allegedly thrown from a car and hit by traffic actually fell in a "tragic accident", police say.
Officers from Devon and Cornwall Police were told in August that the animals were thrown from a red VW Golf on the Penryn bypass heading towards Falmouth.
But after a witness came forward, police found the kittens had "fallen" from the engine compartment.
A police spokesman said: "No criminal action by any individual took place and this case is now closed."
The incident was alleged to have happened on 28 August and an appeal was made by police.
'Hear cat calling'
"A female came forward stating that she drives a similar car and can be put in the area at the time," the police spokesman added.
"She lives on a farm which has several feral cats and having returned from her journey she could hear a cat calling from within her car.
"A kitten was located in the engine compartment which was then reunited with its mother.
"Inquiries would suggest that two other kittens fell from the engine compartment while the vehicle was in motion."
He said that it was with "great relief" that the force could confirm "this was a tragic and unforeseeable accident rather than the act of a callous owner".