Carnon Downs village hall wins Big Lottery cash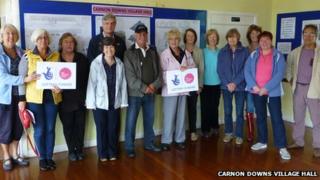 A Cornish village has been awarded £450,000 to refurbish and extend its village hall facilities.
The money from the Big Lottery Fund will see a extension work at Carnon Downs village hall with toilets, kitchen and an improved entrance.
A youth project in Hayle which offers activities for teenagers has been awarded more than £118,000.
The funding is part of £1.5m in Reaching Communities grants which have been presented in the region.
Carnon Downs' hall extension means the facility can increase the existing services already on offer to users, including film nights, coffee mornings, camera club and a mother and toddler group.
There will be a variety of training courses, counselling sessions, health education and life skills classes, a spokesperson confirmed.
Sue Felton, chair of the hall committee, said: "This is fantastic news for all existing and potential users of the village hall.
"The aim is to create a village hall fit for the 21st Century with an even wider range of activities for everyone in the local community to participate in and enjoy."
The Hayle Youth Project, which received £118,291, will work with about 400 young people who are most at risk of social exclusion.
The service will offer a range of sporting activities including surfing, golf, rock climbing and mountain boarding, as well as one-to-one mentoring advice, a spokesperson said.