Charity and council welcome homeless funding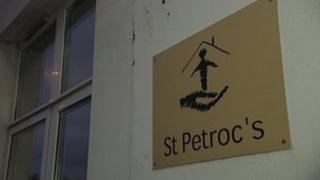 More than £145,000 of funding as been awarded to projects in Cornwall that help support homeless people.
Charity St Petroc's has been awarded £65,000 to fund a full-time worker to prevent the discharge of people from hospital onto the streets.
More than £80,000 has been given to the Cornwall Council for the lease and maintenance of flats in Truro, Bodmin and Redruth.
The money has come from the Department of Health.
Steve Ellis, the chief executive of St Petroc's, said: "The award of this grant is fantastic news for Cornwall and will allow St Petroc's to work jointly with our colleagues in Cornwall Council and the health service to ensure that anyone leaving hospital will not return to being on the streets and will receive the best possible after-care."
Department of Health figures estimate homeless people attend hospital emergency departments up to six times more than people with a home.
The department also said 70% of homeless people are discharged back onto the street without housing or on-going care needs being properly addressed.
Cornwall Council said the two-bedroom flats would mean those at risk could be temporarily housed when they came out of hospital.
The two bedrooms allow flexibility, with either two individuals needing support, or a single person and a carer, a council spokesperson said.
Felicity Owen, director of Public Health Cornwall, said: "We are delighted that this money has come to Cornwall and to be working in partnership with St Petroc's.
"There are between 50 and 90 rough sleepers in Cornwall and many of these people are admitted to hospital, often more than once across the space of a year."
The funding was awarded by the Department of Health's Homeless Hospital Discharge Fund.