Torpoint ferry service reduced for refit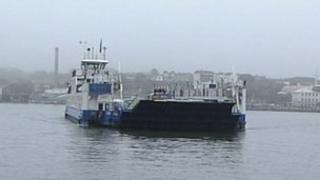 One of the Torpoint ferries will be out of action later for a month so that work can begin on a refit.
The repairs mean there will be just two ferries operating at busy times - running every 15 minutes.
The company which runs the three ferries said the refit, due to take place at A&P in Falmouth, was expected to take about a month.
The crossing is owned by two local authorities, Cornwall Council and Plymouth City Council.
A spokesperson from the service, which links Devon and Cornwall by water, said it was "sorry for delays commuters may experience".
The company said the temporary removal of one of the ferries would "result in a reduction to a 15 minute service throughout the working day and at weekends from 06.30 BST until 21.30 BST, when the normal single ferry service will operate overnight."
Previous figures showed about two million vehicles use the link between Devonport and Torpoint each year.