Easyjet 'to keep Newquay-Gatwick flights'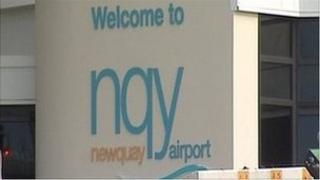 Easyjet is considering saving the main Cornwall-London air link when Flybe stops operating the route in March, the BBC understands.
Flybe announced in May it was selling all its Gatwick landing slots to Easyjet for £20m, blaming an increase in airport charges.
It triggered fears the slots might be used for services between Gatwick and more lucrative destinations.
Easyjet said it could give no update as "no decision has been made".
Newquay Airport currently provides the only direct flight to London from the far south-west of England.
The Newquay-Gatwick route is regarded as a regional economic lifeline, especially since flights to and from Plymouth Airport stopped in July 2011.
Flybe had said the sale of landing slots was part of a cost-cutting programme for the Exeter-based airline.
BBC South West Business Correspondent Neil Gallacher said he understood that an outline deal was in place that would see Easyjet operating a daily service between Newquay and Gatwick from the end of March 2014.
Passenger numbers have fallen for the past five years but a spokesperson previously said there would "be a strong demand" for the new services.
Easyjet also launched flights between Newquay and London Southend, in June.