Rail crossing closure plans opposed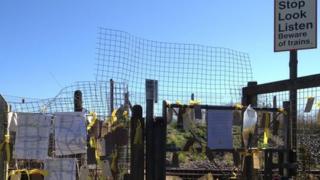 Campaigners are calling for a pedestrian crossing over a railway line in west Cornwall to be reopened.
The crossing at Long Rock near Penzance has been closed since December.
The temporary closure was made after advice from the coroner at the inquest of a 73-year-old woman, who was killed by a train there.
Cornwall Council and Network Rail want to block the path across the line permanently but some local people say the alternative route is dangerous.
The Friends of Long Rock Mexico Crossing, named after the nearby Mexico Inn, said the recommendation to use the vehicle level crossing nearby was "misguided".
Carolyn Newton, from the group, said: "I have brought up three children here. The children come across on a regular basis on their own.
"They know the rules of the railways. But the way it works now is much more dangerous."
The members argue the deaths of two people on or near the crossing over its 160-year lifetime does not mean it is dangerous.
Jodie Farmer, the grand-daughter of Jan Nicholls, who died after being hit by a train in 2011, has organised an online petition calling for safety improvements or its permanent closure.
Peter Marsh, Cornwall Council's director of environment, said the council had "carefully considered all the representations made" but people had until Friday to make their views known.
The council may then have to refer its proposal to the Secretary of State before the crossing can be permanently closed.
In a statement Network Rail said: "Ultimately, our aim is to protect lives and our preferred option is remove the risk completely by closing the level crossing.
"However, closing level crossings is not always an easy process and we understand the impact it could have on the community."