Newquay looted surf truck prompts £10,000 donations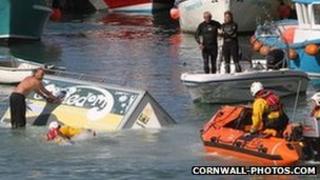 A disability surf school whose truck was looted after being submerged by the incoming tide has received more than £10,000 in donations.
The funding means the not-for-profit company will now be able to apply for full charitable status.
Freedom Surf director Mark Hill, said he is also working with a private benefactor who donated £7,500.
The Land Rover and truck had become stuck in the sand after being blocked in by the public in Newquay last month.
Looters went on to steal about £2,000 worth of wetsuits, tools, clothes and surfboards from the vehicle while it was still submerged off Towan beach.
'Feel gobsmacked'
Mr Hill, 37, said a restaurant in Falmouth raised £1,100, while a private business in the Midlands donated £500 and a man in Berlin gave the company £300.
"I feel gobsmacked. It's nice to feel we are not alone in what we do," he said.
The money is being used to convert a new Land Rover for beach use and to replace stolen and lost equipment.
Mr Hill added that full charitable status will allow them to explore new ways of helping disabled people.
"Before we were not-for-profit, but when the donations exceed £5,000 we were able to apply for charity status," Mr Hill said
"Our aim is to train up people with disabilities, covering each area of disability and making it completely self-sufficient, doing training in-house, including lifeguard qualifications.
"We are trying to work out a handicap system where there can be different levels - so you don't have to be a full on lifeguard but you can be a coach's assistant, or lecture on beach safety."